News
Hermanus Report: Late November 2020 - continuing in NEWS
After discussion with John Ross Smith and Richard Beardsall of Rotary Club in Hermanus, I offered to assist with porridge distribution through Swartdam Clinic. This clinic looks after people from 2 neighbourhoods Zwelihle and Mount Pleasant. I have been intermittently involved in Health care in Hermanus since 2000. I set up the first Home Based Care service in these 2 areas and chaired the health facility board of the provincial hospital. I was in a good position to make connections for Rotary. The provincial hospital cannot take food as they are guided by the Unicef recommendations:
PORRIDGES ARE ALLOWED BUT NO INFANT FORMULAS AT ALL DUE TO BABY FRIENDLY POLICY IN HEATH CARE IN SOUTH.AFRICA. THIS CONTRAVENES THE ETHICAL CODE SUPPORTING BABY FRIENDLY POLICY IN PARTICUALR BREAST FEEDING- 10 STEPS. REGUALR INTERNAL ASSESSMENTS AND PROVINCIAL CHECK UPS.

The clinic deal with mothers and babies and offers the porridge to mothers for babies 6 months and older. The Clinical Nurse Practitioner of Overstrand Sub- District Hermanus, she has managed this initiative from late November. The clinic has 40 babies per day and porridge is given. Labels were created to attach to the bags. Loretta says sometimes colleagues forget as there is considerable pressure in the work place with Covid-19 precautions. So far they have used less than 100 bags delivered. She anticipated increasing this. Mothers are appreciative. Small diapers are given to mothers for the babies too. Photos above show mother and child at the clinic.
Matron of the Provincial hospital was provided with diapers and a further supply in March too. Rotary delivered toys too. Matron wad delighted with the articles.
Angela Heslop: Chairperson
STANFORD SAMARITANS
Porridge supplied to Stanford residents 21 mothers, 50 bags in 2 allocations.
THANK YOU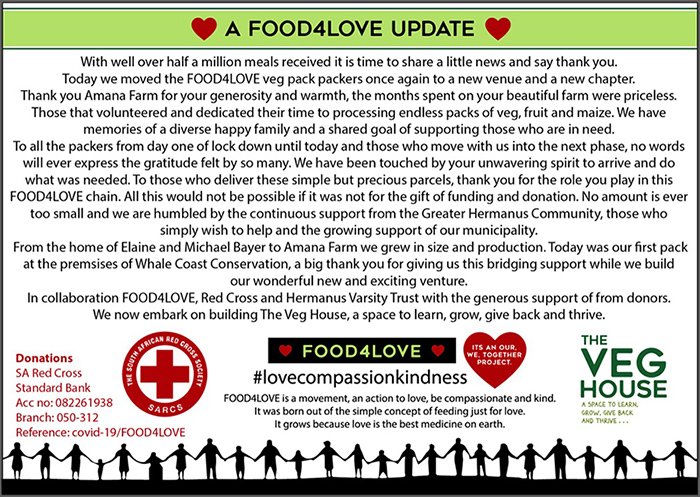 REPORT TO RED CROSS FUNDERS: LATE JULY 2020
THE FUTURE
We are approaching the end of 4 months food relief which has been made possible with funds received from you. Hermanus citizens have contributed towards R 3.0 million to 3 main feeding schemes: Relief Life, Food4Love (F4L), Eat, other outlets are referred to below.
This has provided food to people of Greater Hermanus and beyond as emergencies arose. As well as the primary food schemes there were many food contributions from other local people (individuals, churches and resident associations)
Now only Food4Love remains as Relief Life will discontinue at the end of July. The municipality funds soup kitchens in Overstrand. However these soup/food schemes are often supplemented with solid food from the public giving vegetables, bread and to trolley contributions that you may have noticed outside our supermarkets.
More recently the local Brewery have had 2 large soup events. Relief Life distributed food packs on behalf of Kolisi's Foundation that was facilitated by Zelda la Grange for Mandela Day. Rotary has funded food and hygiene needs.
On our prompting we met with Mr N Michaels, Director of Protection Services and Disaster Management, to reflect on the past months and discuss the immediate future of the food relief. We presented the known statistics of each scheme and the gaps in this endeavour. That is the feeding scheme's work was done with the volunteers own vehicles, fuel and airtime. In addition mapping, tracking and assisting with Covid-19 food distribution has been left to the schemes and thus the data is inadequate.
Mr Michaels reported on the municipal constraints and that the municipality has R4, 4 million for the next 6 months feeding in Overstrand. He welcomed that F4L planned to continue with the support of Red Cross (Hermanus) subject to submitting a proposal.
New Proposal:
As the only food scheme in Greater Hermanus, the broad principles of this proposal are that the community makes their own food packs from delivered food, distributes to identified areas within Zwelihle and Mount Pleasant. Data records of this process will be kept. The current volunteers serving F4L will initially facilitate this process however they will then withdraw.
It is envisaged that the proposal will include additional projects: Sharp digital (learning how to use cell phones for record keeping: better data on food distribution and personal needs) gardens and a shop (that currently sells African jewellery, clothing and hotboxes made by local people). The proposal will be submitted by F4L in partnership with Hermanus Red Cross, Mr Michaels urged us to undertake this endeavour
Towards the future.
The Western Cape Local Economic Development forum lead by Andrew Boraine reminds us that funds in the Western Cape are dwindling and recently emphasised the following points:
We are entering a different phase of local transmissions and of lockdown.
We need an integrated approach, not just food, or health.
We need a targeted approach, with a focus on hotspots identified through Health data.
We need a whole-of-government and a whole-of-society approach.
I think that Overstrand Municipality with its citizen need to engage with these issues.
Angela Heslop Chairperson: Hermanus Red Cross
A big thank you to Hermanus citizens
Community service at the rock face
When the chips are down in a crisis, needy communities look to the NPOs (Non-profit organisations) on the ground for help. These are the service providers at grassroots level who work with them through good times and bad; they understand the communities' unique circumstances and they have a human face.
Yet the crucial role these organisations play, often with very few resources and at great personal sacrifice is seldom recognised by society as a whole. It is frequently only in times of disaster that the spotlight falls on them.
The Overstrand has been richly endowed with NPOs, both large and small, and to an extent they form the backbone of community life. Many of them rely on volunteers to carry out their mandate and they all acknowledge their enormous debt of gratitude to the citizens of this region for their sustained support.
Characteristically, NPO workers are agile, adaptable, innovative and resilient, which has been amply demonstrated during the current pandemic. The Village NEWS spoke to only five of the hundred-plus organisations active in our region to find out how the Coronavirus had affected these selfless social entrepreneurs.
Kleinmond Child Welfare Director, Theresa Els says in many ways they had to rethink their entire modus operandi during lockdown. "The 26 children from 3 – 12 years of age in our Children's Home went into total lockdown and their carers moved in with them to avoid infection," she explains. "Although the children have coped remarkably well, keeping them busy and entertained all this time has been very stressful for the staff, as you can imagine.
"The ECD and after-school centres we manage had to close down, of course, but our teachers were worried about the welfare of the children, so since the beginning of May they have all been running soup kitchens and the teachers have been able to check on their children and give them activities to do at home.
"Many of the families don't have computers, so we've been downloading schoolwork for the children at the after-school centre, photocopying it and letting them have it when they come to the soup kitchen. One of our biggest problems, though, is that most of the parents have stopped paying their fees, which leaves us in a serious financial crunch."
They have had to suspend the regular educational sessions they run at the schools, but the social workers have been going into the communities to speak to families about how to manage the restrictions and keep healthy and safe. Fortunately, there have been few reports of child abuse since the start of lockdown; that is, until the ban on alcohol was lifted, when there were four within the first week.
"The most difficult thing for me, personally," says Theresa, "is the uncertainty. Trying to plan ahead is very difficult, but we are making use of the opportunity to streamline our management systems and rethink our approach to some of our child-centred programmes."
https://thevillagenews.co.za/community-service-at-the-rock-face
Update Report to Fundraisers June 2020
Food relief schemes have been going for over 2 months. On behalf of Red Cross I would like to express a huge thanks to you all who have raised nearly R400, 000! As you can imagine food relief whilst not new, can be difficult to sustain for a variety of reasons: labour intensive, monies, uncertainty and winter.
I refer specifically to Greater Hermanus however Overstrand is mostly managed through municipal soup kitchens, supplemented by churches and individuals donating food.
The 2 major food schemes here are:
Relief Life that supplies dry food packs and adds in what the public donate and delivered shopping trolley content from the public.
Food4Love linked with another food packing station Eat and supplies vegetable packs for family food preparation and additional items - bread, fruit, and boiled eggs as well as to supplementing municipal kitchens.
Who is served? Families, care centres, individuals: elderly or out of work and foreign nationals receive this service. This is across the demographic spectrum. It is difficult to ascertain how many people benefit.
Whilst I have referred to funds received from you by Red Cross, the above schemes also receive separate funding. Both are funded exclusively by local citizens of Hermanus.
I enclose Relief Life's latest video and F4L's logo with recent figures. I apologise if you have received these from elsewhere however they do colour the situation and show data. I work with both and together they cover our area in conjunction with 26 - 30 soup kitchens. Churches, local farms and individuals assist with additional food contributions and hygiene packs are received from Rotary. The food schemes cover the volunteer's fuel, airtime and use of their own vehicles for most deliveries. The municipality assists with a vehicle for some distributions to one township for safety reasons, a miss quote in Village News below.
Angela Heslop Chairperson
Additional information Just click on the link/picture below to read the newspaper: p 5 Community Service at the Rock face: Red Cross and Youth Café- soup/food kitchen mentioned:
https://issuu.com/dwaal/docs/the village_news_10_june_-_17_june_2020
Report: Funding to Hermanus Red Cross
I sent out a report in Mid- April 2020 as a thank you to everyone for so generously assisting and continuing to fund food provision initiatives for the communities from Voelkip to Fisherhaven. I enclose an update
Disaster management includes mitigating the severity or consequences of disaster. People will be without food for several reasons - no income, no work and or delayed grants. Thus in this instance you are sharing in a humanitarian response by funding 'immediate assistance to maintain life, improve health and support the morale of the affected population'.
Food costs money.
During the past 38 days R233 000 has been donated and this includes R25 000 of local Red Cross funds.
The organisations below are run by volunteers and food supplies are transported to the various communities. Travel permits are issued to people to transport food during lockdown. I include some food supply figures.
Relief Life in the past month: 1 124 dry food parcels & 2 276 medium food parcels = 190 000 potential meals.
Food4Love Late April - May: Daily: over 1 350 mixed veg packs and a further distribution of 500-700 emergency packs constituting potentially 8 000 meals per day to a cross section of families living in the areas mentioned above. Zwelihle has the greatest population. Foreign-nationals are catered for now however not adequately. People receiving food span the demographic spectrum that is black, coloured and white.
There are 42 soup/ food kitchens in this area and are funded by the government through the mayor. These monies are allocated to all the Overstrand. In this area soup kitchens are supplemented with sandwiches and food packs by your donations.
Churches and small groupscontribute too many less fortunate people in this area as well. We have been fortunate to have had a number of food companies and farms that give large quantities of vegetables either at reduced cost or free to supplement food packs.
My observations is that volunteers have invested enormous work and energy into this endeavour. The organisations liaise with colleagues in disaster management as well. There is considerable paper work. Food schemes will need to go on and winter is approaching. I have recently learnt that Western Cape Provincial Government is responsible for food relief and that they have started mapping what civil society is doing in food relief.
Thank you so much, Angela Heslop
Additional information Just click on the link/picture below to read the newspaper: p 5 Community Service at the Rock face: Red Cross and Youth Café- soup/food kitchen mentioned:
https://issuu.com/dwaal/docs/the village_news_10_june_-_17_june_2020
Covid-19 Disaster
Post-disaster recovery Hermanus Red Cross Branch supports the vision that there is:
A Shared responsibility between municipality and citizens
Encouragement for voluntary action by each individual to provide more than a minimum for himself, his family and his local community.
Red Cross could play a role in measures (c, d, and e) listed in the disaster management plan below:
Disaster management" means a continuous and integrated multi-sectoral, multi-disciplinary process of planning and implementation of measures aimed at:
(c) Emergency preparedness;
(d) a rapid an effective response to disasters; and
(e) rehabilitation

Letter of thanks and update
On behalf of Red Cross in Hermanus thank you to everyone for donating food and funding towards providing food and provisions to Hermanus neighbourhoods. The 19 days since lockdown caused by covid-19 has been a steep learning curve for all concerned. The 8 informal and mandated organisations aim to work together in a process of food purchasing, packing and distribution to people's homes. There have been weekly food packs for 4 people which contain dry ingredients to cook with and/or 2 day packs: vegetables and fruit for the past weekend. The neighbourhoods have 3/4 soup kitchens (queuing is not conducive to social distancing) and there is a setting for homeless people in Moffat Hall, Mount Pleasant. I would estimate over 9000 people have been catered for providing they qualify for this. Social Development Department sets criteria Non-Nationals are not part of the narrative at present. This work will necessarily continue and winter is approaching.
NEW
However since the above report was sent out there has been much progress to create a coordinated plan involving all the organisations to work effectively together and share procedures in food distribution to the neighbourhoods. In addition many people and food companies have come on board to assist.
FOR FIRST AID TRAINING PLEASE CONTACT EMR 08246898444 e-mail: info@emrambulance.co.za
HERMANUS RED Cross awaiting accreditation
HERMANUS RED CROSS ANNUAL GENERAL MEETING 16 SEPTEMBER 2019 CHAIRPERSON'S REPORT
Each Red Cross Branch or Station applies the International and National Organisation's Mission in a way that best suits its own situation on the ground, and in Hermanus/Overstrand, our focus is upon:
Disaster Management allied to Overstrand Municipality
Medical Loans Depot
First Aid Stations & Training
Home-base Care Training
Welfare & Feeding Schemes Network
Funding of Projects
Hermanus Red Cross has been in existence since 1957 within the aegis on Western Cape regional headquarters of the Provincial Red Cross headquarters in Wynberg, Cape Town.
This report reflect the past year although we did not have an AGM in 2018.
We do not actively seek additional volunteers. We do not fundraise as we have had generous benefactors.
First of all I should like to say that we have enjoyed our new premises shared with SANTA since July 2016 and we work well together.
Disaster Management,
Whilst we are allied to Overstrand Municipality, there is an increasing need to be part of a continuous and integrated multi-sectoral, multi-disciplinary process of planning and implementation of measures aimed at emergency preparedness; a rapid an effective response to disasters; a post-disaster recovery and rehabilitation.
To this end we have written a document to illustrate what resources we can offer this community in the event of a disaster. However last year in terms of post disaster we worked with Rotary Hermanus to assist with people who lost homes and possessions during the political unrest in 2018
Medical Loans Depot
This offers a 2 hour shop from Monday to Friday and has a variety of equipment to loan. On average 40 items are loaned per month. There are approximately 60-80 drop-ins monthly which include enquiries /advice and soup kitchen collections. There are a number of telephonic and e-m enquiries usually related to training.
Training
Home Based Care (Level 1, 2 and 4) and First Aid training (Level 1) on hold.
Both courses are currently awaiting completion of Accreditation for HWSETA qualifications. This process has no time line at present and we refer requests to a First Aid facility in Sandbaai.
HBC training is provided for a private organisation employing our teacher and using this facility
Please Click Here to read or Download the Full Chairmans Report
Making a Difference to Childrens Lives and Dreams
Lucky Point Crèche is situated in Botrivier, a previously disadvantaged community. Lucky Point was established by Claudia Delport who completed her educational diploma in Early Childhood Development and Margrit Schwendimann, the project leader of Lucky Point crèche. The crèche was opened in 2012 due to sponsors, they were able to buy a little house and did further renovations.
The crèche accommodates up to 40 children between ages 1 and 6 years of age. It is of utmost importance that these kids must be in a crèche, so that they can be better prepared for kindergarten/pre-primary school. The educational side of the crèche is not only extremely important as preparation for school, but also for the nutritional aspects, which are essential for young lives. We are trying to make the crèche self-sustainable but in winter it is a constant challenge because parents are without work for 3-4 months, so they keep their children at home to save money. In these critical months we try to make arrangements so the child can stay at the crèche.
In 2019 I was employed as head of the ecd centre to run the crèche on a daily basis.
The South African Red Cross Society, Hermanus, has been very generous to Lucky Point crèche by donating 30 warm blankets as well a monthly supply of soup ingredients. We are truly grateful for this contributions. Our children deserve only the best.
HERMANUS RED CROSS ASSISTED WITH OTHERS IN THE CREATION ON AN INTERNET CAFÉ IN ZWELIHLE
Olwethu Petros had created an Internet Café opposite the Zwelihle Clinic in Swartdam road, this was was destroyed during the political unrest in Hermanus in mid- 2018.
He was assisted by Hermanus Red Cross in paying for a new Printer, four plastic chairs and a work counter
HERMANUS RED CROSS MADE AN ALLOCATION OF MONEY TO THE PROJECT OUTLINED BELOW
Stitching communities together
It is probably fair to say that the past year has been a difficult one for all the residents of Greater Hermanus. The eruption and re-eruption of violent protests has torn apart the fabric of life in this beautiful town at the edge of a timeless ocean.
The disruption has had many consequences, some good and some very bad, some antici-pated and some surprising. One of the positive consequences was that a signi cant number of people in the di erent communities began to realise that whatever our di erences, our lives are intimately tied together. What is good for one, must be good for all; and what is life-threatening to one is life-threatening for the social and economic well-being of the entire town.
A group of six local women took matters into their hands. They formed the Hermanus Art & History Project with the aim of creating a non-threatening platform where all sectors of the community could share their stories and learn to work together on a joint project, which would bring pride and hope to the town. They had heard of the Keiskamma Art Project and the 120-metre-long tapestry the women of the small town of Hamburg in the Eastern Cape had embroidered for our Houses of Parliament and thought this might be the answer.
Inspired by the mediaeval Bayeux tapestry depicting the Norman conquest of England in 1066, the Keiskamma women had created a tapestry using thread, wire, felt, beads and even Nguni cowhide to depict the Eastern Cape Frontier Wars of 1779-1878. The Hermanus group felt this might be just the kind of project they were looking for where the different communities could get together to tell the stories of each of them in a tangible form that would be accessible to generations to come.
November 2018 Home Based Care and First Aid courses awaiting accreditation in Hermanus. Apologies.
News - Hermanus Times 30 August 2018
Learners kitted out from head to toe
When 13 structures in Zwelihle burnt down recently, 16 children were left without school uniforms. The Rotary Club of Hermanus and The Red Cross Society worked with Child Welfare to make sure the children from three different schools were kitted out from top to toe with new clothes. Last week, the learners at Lukhanyo Primary were delighted to receive their second parcel of clothes.
Pictured are Angela Heslop (Chairperson of the Red Cross Society Ann Wright (president, Rotary Club of Hermanus) and Nonopha Gama (social worker, Child Welfare). With them is Deputy Principal Selena Calata (second from left), who was most appreciative of assistance given to the learners.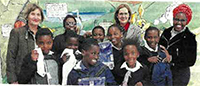 Medical equipment donated to 4 organisations in August 2018
The depot medical loans rooms were filled to capacity and has been uncomfortable to show people equipment, store and or keep clean. We decided to rationalise contents and dispose of all extra items, believing this will prove helpful to us all.
4 organisations listed below were invited to collect items to assist in their work. Items given were: walking sticks, walking aids, raised lavatory seat, crutches, egg box mattress and 1 wheel chair. Some oddments were given away. This initiative was appreciated by the organisations below:
Huis Lettie Theron, Lombardi, Overstrand and Home Based Care coordinated by Women's Action Group.
News-August 2018
Twelve families were the victim of a reckless drinker who got violent, fell asleep with a candle burning and the candle fell over and the fire started. Thirteen houses were burnt down as well as all their belongings. Allegedly children are teased if they are not in uniform and in addition they need warm clothing. We worked with Rotary to provide uniforms to provide 16 children from these homes.
We worked with Women's Action Group(WAG) to provide a bed for a home carer affected by the same fire.
News-march 2018
Seat in new Completed Space 2018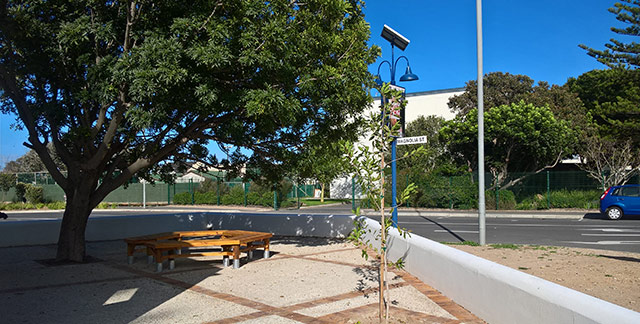 Completed Red Cross Facility 2018
News-February 2018
Home Based Care (Level 1,2 and 4 ) and First Aid training (Level1) on hold
Hermanus Red Cross as advised by SA Red Cross Society has currently put Home Based Care (Level 1,2 and 4 ) and First Aid training (Level1) on hold.
Both courses are currently awaiting completion of Accreditation for HWSETA qualifications. This process will hopefully be complete in July 2018.
We apologise for this inconvenience.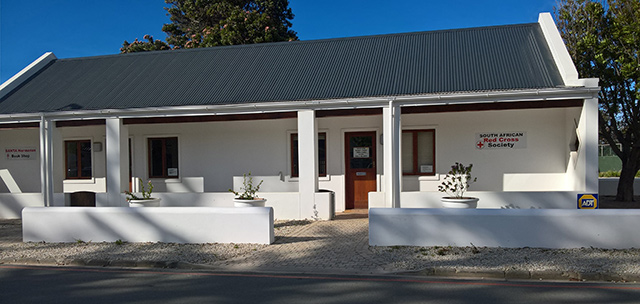 News-August 2017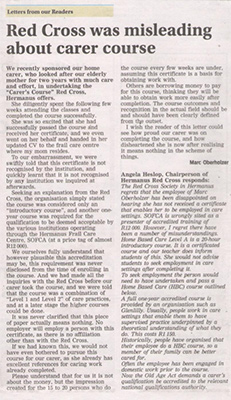 Red Cross was misleading about carer course
We recently sponsored our home carer, who looked after our elderly mother for two years with much care and effort, in undertaking the "Carer's Course" Red Cross Hermanus offers
She diligently spent the following few weeks attending the classes and completed the course successfully.
She was so excited that she had successfully passed the course and received her certificate, and we even went on her behalf and handed in her updated CV to the frail care centre where my Mom resides.
Please Click the image Above to Read further
Source: Hermanus Times - 24/8/2017
Copyright © Hermanus Red Cross (2021) All Rights Reserved