August 2012 - Women of the year awards
Article below published in Hermanus Times - 30 Aug 2012
Local women who exemplify the ideals of selfless care were held high at the mayor's women of the year awards. Councillor Liesel Krige introduced the finalists, after which mayor Nicolette Botha-Guthrie presented their beautifully framed certificates of appreciation.
The overall winner was Angela Heslop, who received this accolade for using her talents and training to make an unpaid career of working for the community at a very high level for many years. Among others, she's worked with Hermanus Red Cross, the Hermanus Provincial Health Facility Board, Friends of the Hermanus Hospital, the Enlighten Education Trust, Hermanus History Society and the Camphill Farm community.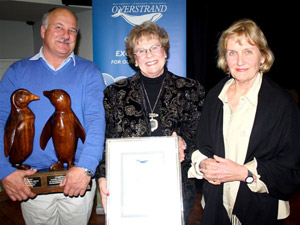 Photo by: Cilene Bekker
Photo journalist - Hermanus Times.
Copyright © Hermanus Red Cross (2021) All Rights Reserved