News
May 08 World Red Cross Day
World Red Cross Day is observed every year on 8 May. The occasion is marked to celebrate the principles, history, values, and impact of the International Red Cross and Red Crescent Movement.
On this day, people pay tribute to members and volunteers of the organisation who contribute to humanitarian work. World Red Cross Day History:
Swiss humanitarian Henry Dunant's book Memory of Solferino about the suffering at Italy's Battle of Solferino gave rise to several relief societies. This later transformed into the Red Cross and Red Crescent movement. The day 8 May has been selected as the World Red Cross and Red Crescent Day in honour of Dunant as it is his birth anniversary. Dunant received the Nobel Peace Prize in 1901 for his contribution to humanitarian acts. The occasion was first called World Red Cross Day but later transformed in 1984 to World Red Cross and Red Crescent Day.
World Red Cross Day Significance:
After World War I, the tradition to celebrate an annual Red Cross day was established and it was called Red Cross Truce. The day is significant as it celebrates the spirit of the volunteers to provide medical help to everyone without any discrimination. During wars or epidemics, the Red Cross Society not only provides people with healthcare but also with other kinds of assistance.
World Red Cross Day 2021:
This year, the theme of World Red Cross Day is 'unstoppable'. The day aims to celebrate their long journey and also reaffirm their commitment towards the humanitarian mission.
As per the official website, the COVID-19 pandemic reinforces the significance of their entire movement. ICRC is working with the local societies to provide a coordinated response towards this crisis.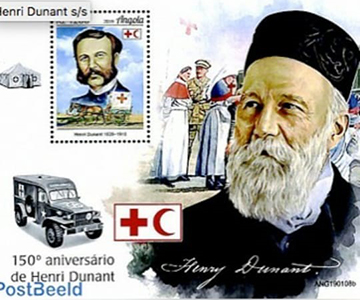 F4L provided 1 million + meals
Since the National Lockdown came into effect more than a year ago, the local Red Cross Society and Food 4 Love have provided more than 1 million meals to people in need across the Greater Hermanus. Food 4 Love (F4L) was a "spontaneous civil society" effort that came into being when ordinary citizens sprang into action to provide meals to those adversely affected by the lockdown. F4L closed its operations at the end of February. The effects of the devastating riots in Hermanus area in 2018, combined with the effects of lockdown less than two years later, say Angela Heslop, chairperson of Red Cross Society's branch in Hermanus, and F4L founder Natalie Munro, highlighted resource inequalities among the communities. They report that funds for lockdown relief efforts were received from local and international donors.
Around 125 volunteers packed essential vegetables and maize into multi-meal packs. "In April 2020, they packed 1 800 packs a day, jumping to 2 620 in May. In all 1 054 000 meals were packed. "Our food packs provided the basis for a family to feed itself," says Munro. F4L, says Munro, also provided a sense of community for volunteers and recipients. "The unprecedented nature and scale of the disaster generated a collaborative all-hands-on-deck spirit." Distribution was managed by William Ntebe, who reports that delivery was cancelled just once. Heslop says relief efforts were dealt a serious blow in September 2020 when it was announced that municipal funds supporting Overstrand soup kitchens would be "redirected" to "community vegetable gardens". Heslop and Munro stressed the urgent need for a thorough poverty assessment. In collaboration with the Hermanus Varsity Trust (HVT), Munro has proposed a Veg House to teach people about self-sufficiency and gardening and has reached out to the wealth of farming wisdom in the Hemel-en-Aarde Valley. Heslop notes that a November survey saw people learn digital skills using cellphones.
This work continues in SharpDigital, a NPO in Zwelihle. "Further collaboration may indeed be feasible with HVT," she added. "This has been an invigorating experience of a local community coming together," said Heslop. "We urge Overstrand leadership to appreciate the value of this. It must make a commitment to broad consultation about what happens in the Overstrand, a vision everyone feels a part of."
Article by Hermanus Times
Easter treat for children
There was a festive air in Mount Pleasant on Easter Monday as children from the area and Hawston lined up for special treats. The event, organised by local resident Charline Cornelius with the help of sponsors and volunteers, managed to bring some Easter cheer to dozens of children. The event began with prayers and a short message by two local pastors. Everyone received a hotdog and a box of goodies.
They were also treated to a special performance by a local dance group. Angela Heslop and Natalie Munro from Food4Love and the Red Cross Society also attended. "Food4Love and Red Cross sponsored this event with some of the remaining Food Relief money," said Heslop. Cornelius thanked all the sponsors and volunteers who contributed to the day's success. "With the help of the sponsors I also managed to hand out treats to the staff at Golden Harvest," she added. "Thank you to everyone who made this possible."
Article by Hermanus Times
Please read the full report in Projects
Copyright © Hermanus Red Cross (2021) All Rights Reserved